Imported bloodline Doberman puppies available only at clawsnpawskennel (98300 - Guwahati
Thursday, 22 March 2012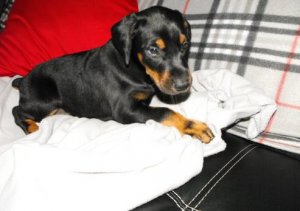 Contacts

Sangeeta Banerjee

9830064171
Item description
Breed name: DOBERMAN
Colour: Black/tan, liver/tan
Gender: Male/Female.
Age: 2 mon
Price: Negotiable
Transportation: Shipping all over India. No Transportation Charges Required.
Bloodline: Australian/UK And Canadian.
Vaccination: Primary vaccination on 6 weeks completed.
Deworming : on 21 days completed
Breed guarantee: Life time breed guarantee
KCI REGD. Paper: Available
Delivery: prompt delivery within 24 – 48 hrs.
These are very intelligent, obedient, watchful and protective.Please call us on 9830064171 or email us at clawsnpawsplanet@gmail.com. Visit us at www.clawsnpawskennel.com.