Mortuary Dead Body Freezer Box Manufacturers and Suppliers call 9866012211 - Guwahati
Sunday, 10 May 2020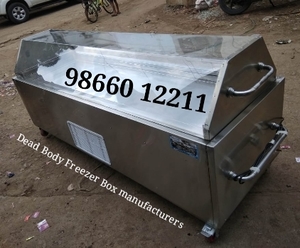 Contacts

mohammed raheem

9866012211
Item description
We are one of the leading Mortuary Dead Body Freezer Box Manufacturers and Suppliers. We offer superior quality Morgue Coolers that are fabricated using industrial grade Stainless steel, which offers anti corrosive and anti abrasive properties to it. Our Body Freezers & Water Coolers are environment friendly in nature and therefore they automatically adapt to the external temperature and humidity and cooling.

We Always Welcome the Agents or Distributors in assam
Districts and all over the India.

Wanted Dealers Distributors Required Pan India. we manufacturer Stainless Steel Mortuary Dead Body Freezer Box , Shav Peti, Dead Body Cooling Box , Mortuary Cabinet, Mortuary Chamber, mortuary freezer box, Aluminium Muslim Janaza Dola and Taqat Suppliers.